Artists' Workshops
Most Recent Artists' Workshop
Collage WorkshopsArtists' Workshops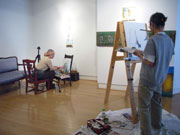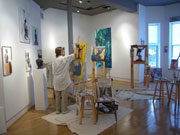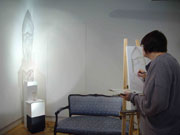 We have initiated many artists' workshops to date; each a variation on the original model. For the first three we held marathon weekends and during subsequent workshops we opened the gallery up, for periods of one to two months, with invited artists meeting to paint as their schedule allows. In this way we have created an ongoing response to the subject of inquiry and to the work of the artists. Some workshop participants began as visitors who came to view the work in progress.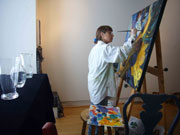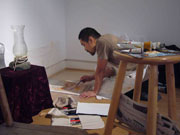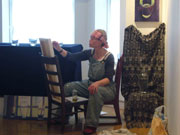 Participating artists have shared their perceptions of working together in the gallery:
Vivian Felsen: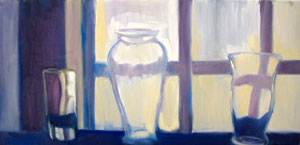 "The gallery for me is a magical space, calm and peaceful yet charged with energy and excitement. Unusual objects, mysterious collages and exotic music all serve to heighten the senses and stir the imagination, as does the presence of other artists and what they produce. Although none of the artists works the same way, or sees the same way, and despite the fact that we are each totally absorbed in our own work, I am somehow influenced by others. The painting on my canvas is unlike any I have done before. Strange, satisfying, unexpected. Magic!"
---
Clement Cheng:

"To be creating work in this beautiful environment surrounded by the works of others, completed or in-progress, made me feel that I had all of a sudden become part of a quiet yet purposeful and impenetrable creative force, fulfilling some kind of mission. The sound of brushes scratching canvas and the intermittent, barely audible whispers in the back corners reminded me that I was in the real world trying to make illusions on flat planes, working to a deadline."
---
Terri Quinn: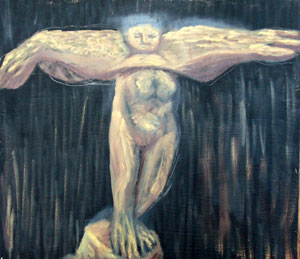 "Everything was new to me, consenting to the unknown, putting myself out there, containing my anxiety and temper with blissful ignorance I painted, and out it came. In the beginning I was terrified now I am amazed. Working next to such diverse accomplished artists has had a huge influence on me. The people involved with the gallery have allowed me to grow in so many ways and to firmly establish my relationship with my efforts. Working in the space has touched me, comforted me, invigorated me, inspired me, the walls remain fluid with light and shadow…listening quietly allowing my heart to open, to guide my hands, to trust myself."
---
Eric Jackson: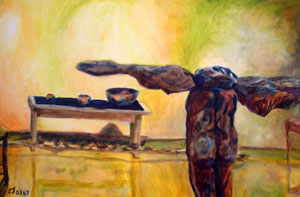 "At Gallery Arcturus I feel excited to paint, to sit with the easel and canvas and create art. The art really begins with the welcoming atmosphere of the gallery, which invites all to see the sculptures arranged throughout. Once my art work is completed and hung up, I loved seeing the relationship it has with the original object that inspired me, (How faithful is it to reality? What have I changed?) I think this shared connection to the subject matter is the reason the artists, staff and viewers to Gallery Arcturus continue to enjoy what is created at these workshops."
---
Roger Chow: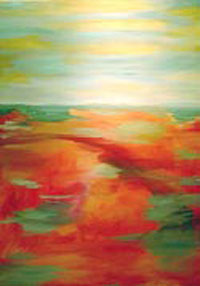 "It's very challenging to describe this energy that exists within a group environment. As much as I'm working on my own piece, it's very much a shared experience. At times I have a specific agenda before I start, for example incorporating a strong colour palette. In the end I've found the results far from my intentions, instead they became very indicative of the environment."
---
Sharon Hunter: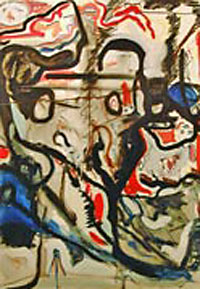 "Arcturus provides a space unlike any other creative environment, inviting and sharing of energy. The generosity of the lead artist Deborah Harris is fundamental in maintaining this kind of working space. Weekend workshops are extremely important as they provide a meeting place for a relationship to occur with each other, the work and the space. The work created reflects that relationship. It is a great experience for all those involved."
---
Ryan Dineen: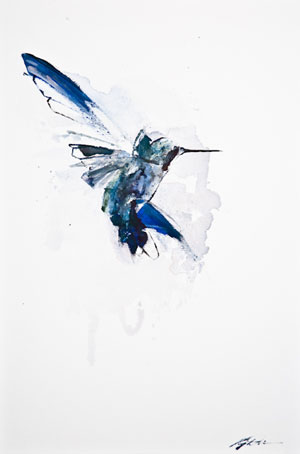 "Painting amongst the other artists at Gallery Arcturus was a very positive experience for me. I enjoyed working in a group where everyone is creating art using such different methods to create a finished show of the same theme. Seeing how around me the people reacted to my painting process actually helped me to see what things were either working or not. I found it very interesting to talk with other artists about their process and learn things about their work. I would love to work with such a friendly group again.
---
Misha Hunter: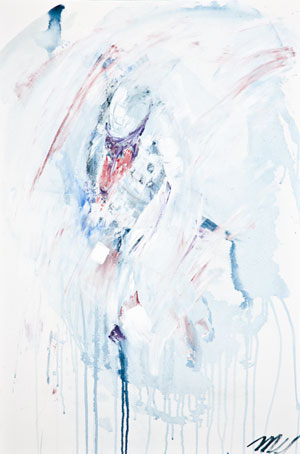 "I feel that being in Arcturus for the first time painting was a great experience. It was a good way to bring artists together. There was a nice calm atmosphere created in the gallery while working and I appreciated having the feedback from the other artists. I enjoyed myself and was very happy with the works that were created. It was an experience I would like to have again whenever possible."
---
Colleen Costella:

"I have found working at Gallery Arcturus difficult and extremely rewarding. The search for objective art is elusive to me as I mostly work from a very personal intention. I appreciate the generosity of those at the Gallery in including so many diverse people at so many different stages in their artistic path, there is no judgement but there is complete honesty in what I've experienced there. The opportunity to see so many talented artists at work has been inspiring as well as intimidating, and also focusing. Each person has a unique perspective. Observing the creative process along with the finished product is a rare gift. I have also had to accept some responsibility about the contribution I may or may not make to the people around me through a commitment of time and attention."
---
David Contin: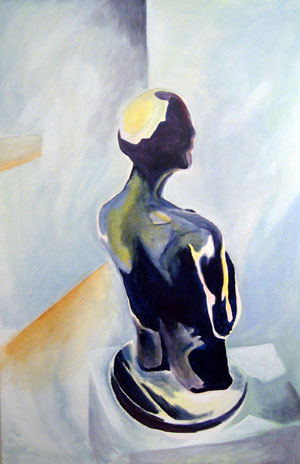 "Working in the Gallery Arcturus environment has been one the most pleasant painting experiences I have had. Every direction offered another beautifully framed composition, and the mix of the organic and linear variations in the sculptures was inspiring. I found the whole experience meditative and I enjoyed the quiet company of the space and the friendly community."
---
Deborah Harris: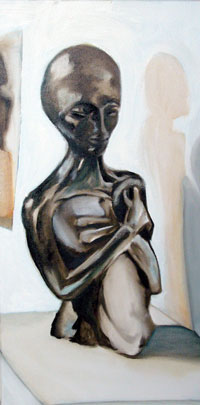 "For myself, sharing this space of inquiry with others is an essential ingredient of 'what is art'. I am inspired and taught by each artist's contribution and called to give my best. We continue to experience that the exhibitions created within the gallery space have energy and accessibility, engaging the viewers to directly participate in the inquiry."
Artists' Workshops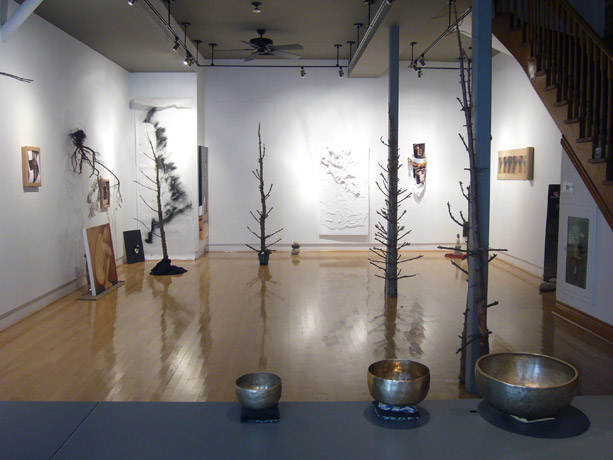 The form for an artist's workshop came about after many conversations over a two year period primarily between Roger Chow and myself, deborah harris. The collage workshops had been an ongoing, open to the public, afternoon event for some years and had shown us some of what is possible working in a group together in the gallery space. We wanted to expand upon that idea including other mediums and artists who might welcome an experience outside of their own studios. Roger and I together invited five artists that we knew, to attend a marathon weekend of painting.
The first invitation attempted to make the participants aware of the mandate that I have held myself to as 'artist in residence'. I wanted them to have a sense of what they were agreeing to before they signed on. And so I asked…
"Whatever goals and ambitions you have had as artists can you suspend those motivations, the expressions of opinions yours and others, in order to observe gesture, movement, colour, texture, form, as it appears? Can the work itself be a search, a journey into the unknown? Can you take your work seriously as opposed to taking yourself seriously?
We met, most of us for the first time Friday evening. The first meeting was used to familiarize ourselves with each other, the space and the materials provided and to choose and prepare our individual work spaces. In our first discussion we agreed upon 'gesture' as the theme for exploration.
Saturday morning we arrived with food and a favourite music disc to share. The environment quickly became a concentrated workspace where nothing else was asked for but complete engagement, a task we discovered to be exciting, challenging, exhausting and surprising. Participants left early or late depending on their own energy level. I agreed to stay til the last one finished.
Arriving Sunday was a very different experience coming into the space already full with an incredible outpouring of paintings from the previous day, it was hard to know where to begin. By mid-afternoon we declared ourselves finished, cleaned and cleared the space so we could stand back and look at what had been accomplished without the clutter of the process. In this first workshop there were sixty three paintings completed. The energy and attention manifest in the work was extraordinary. We collectively grouped the pieces not by artists but by the relationship between the pieces. In effect we created a new body of work from the individual fragments. When this was complete we set dates and designed an invitation for an exhibition and opening reception.
deborah harris
May 2009