The architecture of space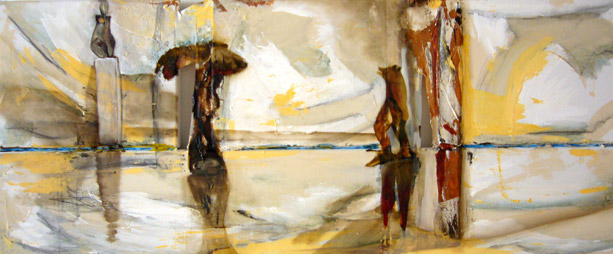 Terrain, deborah harris
Space is the medium of relationship. For communication to occur there must be a space appropriate to it. Space is therefore much more than an empty volume in which events and objects occur, it is a continuity of sensation, thought and feeling which inform and mediate experience.
The physical nature of space is defined by sensation. An object within a space—a work of art within a gallery—is made visible by space. The color, texture and shape of the gallery reveal the work in a particular way. The work in turn influences perception of the space. All of this is the play of attention which is attracted or repelled unevenly by sensation—visual, auditory, kinesthetic and so on. Space is the separation which enables engagement, a theatre for sensation as it dances with attention.
But there is more. The volume of external space is reflected in the mind. Sensations translate into images and thoughts which occupy the space within. The inner and outer spaces mirror and modify each other. Of course, the mind may be full of thoughts and associations unrelated to present experience—a subjective screen separating sensation from reflection. But when the mind engages with the space outside, representing it within, there is a new dimension of depth added to the sensory world's height and width and length. These representations, objects of the mind, are reflected into the space outside, another palette for the attention, which etches these conceptions onto the textured perceptions of sensation.
And there is more. Objects and movement generate sensation and mental reflections and something else—a direct intuition of the essential nature of a gesture or thing. A rose is a perception of shape, color and scent. It is an image or cognition of perfection in the mind. And it is also a feeling of beauty in the heart. All three. The space of feeling is neither outside nor inside but unites them in one movement without separation. Each feeling is a radio frequency all its own, precise, eternal, ineffable.
What, then, is space? An architecture of sensations, thought and feeling; assembled and held by attention in the body, mind and heart, a complete and coherent universe inviting us to adopt a responsive posture so that it may inform us.
top
Gallery Arcturus is dedicated to exploring the nature and necessity of visual art in human endeavour. In our view art is the attempt to perceive and communicate what is seen.

On Lookers, Scott Griffin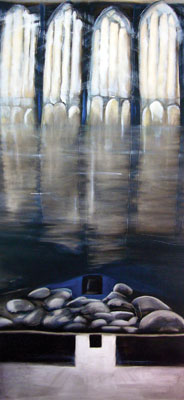 Enter, deborah harris
Much of art is about expressing the artist's moods, opinions and interpretations, exploring what it means to be human from the artist's personal point of view. This form of art has arisen in parallel with the development of psychology and is reflected in the current genre of art criticism and art history. It provides viewers with an opportunity to recognize their own point of view or see another's.
Is there another artistic perspective which looks into the present moment of experience as an unknown to be explored, free from past associations? Can the primary components of experience—sensations and feelings—be penetrated directly without the filter of previous encounters? We invite the possibility that artists may look in order to see, with no other motive than inquiry into what is.
How is this invitation made manifest in the gallery?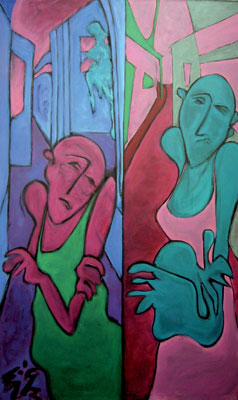 I Recognize You, E.J. Gold
In holding a question we are able to nurture an attitude of inquiry. This attitude has a gesture, a posture, a spaciousness which awakens perception. Each body of work that is presented in the gallery is a response to a question or theme, often inspired by the work which has preceded it. The work is not expected to answer, but rather to make visible the artist's attempt to penetrate the unknown.
We understand that few are able to work in this way all the time, but in each artist's search of the personal, there are moments of discovery which transcend. We collect and display these works for both artists and viewers to see what is unique in each piece and what we recognize that they share.
We also host artist workshops where work is created in the gallery over a period of days, inquiring into an agreed upon 'something'. The work is then hung in the space as an exhibit and an invitation is sent out.
We are learning through experience the potency of what is possible when we suspend our assumptions and enter into the surprise of the unknown. We invite artists and viewers of art to meet us here.
top
download PDF